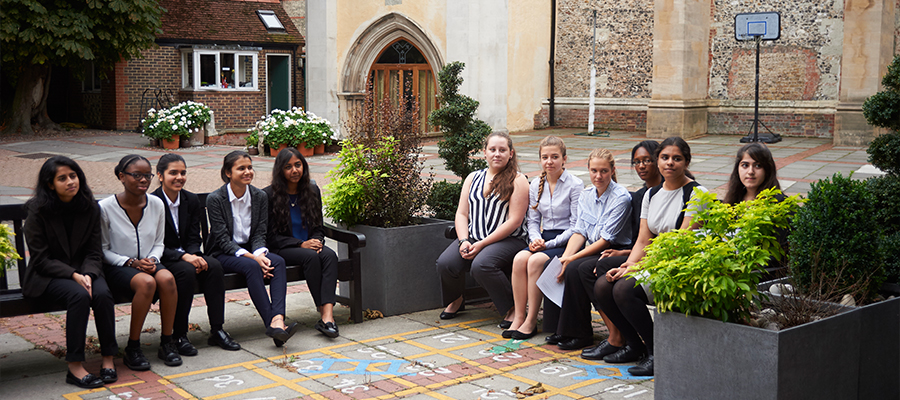 Entry Requirements
An external candidate who wishes to be considered for entry into Year 12 is to complete the application form and submit it by the closing date of Monday 30 October 2017.

Included with this application form should be a copy of the birth certificate, a copy of the passport, a copy of the most recent school report, the parent/carer's proof of address e.g. a copy of a recent utility bill and a (non-returnable) entrance administration fee of £120. Should a candidate, external or internal, wish to apply for a Sixth Form Scholarship or Exhibition, all scholarship application forms must be received by the specified date.
A candidate who has been successful in her application and has been offered a place at the School must respond, in writing, by the specified date.
Sixth Form Admissions Key Dates:
| | |
| --- | --- |
| Sixth Form Open Evening – 17:00-19:00 | Wednesday 11 October 2017 |
| Closing date for receipt of application forms for external candidates | Monday 30 October 2017 |
| Closing date for the receipt of option forms for internal applicants | Monday 6 November 2017 |
| Closing date for receipt of applications for Sixth Form Academic Scholarships and Exhibitions | Monday 6 November 2017 |
| Sixth Form Scholarship General Paper – aptitude test | Saturday 11 November 2017 14:00-16:00 |
| Practical assessments for Exhibitions | w/c 13 November 2017 |
| Sixth Form Scholarship/Exhibition Interviews with Deputy Head for shortlisted candidates | w/c 20 November 2017 |
| Interviews with the Head for external candidates | w/c 20 November 2017 |
| Closing date for the submission of Bursary applications | Thursday 30 November 2017 |
| Offers of places posted | Monday 4 December 2017 |
| Closing date for acceptance of Scholarships & Exhibitions | Thursday 11 January 2018 |
| Sixth Form taster morning for current Year 10 | Monday 2 July 2018 |