Welcome to the Kinder Room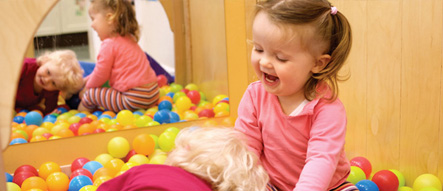 The Kinder Room is for children aged between 2 and 3 years.
Facilities
Kinder Room is actually two interconnecting rooms
• A messy play room for water, sand, paint, dough etc
• A red room – for small world, construction and role-play. This room also has a computer for the children's use and a quiet book corner.
Kinder Room has its own all weather outdoor area with access to the main garden.
The children only get the use of the main gym.
Meals
The children in Kinder Room take all their freshly cooked meals in the main dining hall with the other children.
Independence
The children are able to access all the toys and equipment by themselves to promote independent learning through play and are able to play in the outside area at all times should they wish.
Sleep
Most of the children in this room will still be having an afternoon nap. The children sleep in the 'Red Room' with their own named mats with sheets that are changed weekly. Children who do not sleep or go after lunch will play quietly in the messy room or in the garden.
Tracking progress
Your child will have a key worker who will help your child to settle in and be your first point of contact in the room. Each child in the nursery has their own Early Years Foundation Stage Profile. This contains their personalised learning plans, observations that have been made and photos that have been taken of your child.
We work alongside parents at all times and you may see the profile at any time. The profile goes with your child to the Transition Room, Pre-School and Reception.