Art and Photography trip to Amsterdam
26 students enjoyed the cultural highlights of Amsterdam this half term.
15th November 2017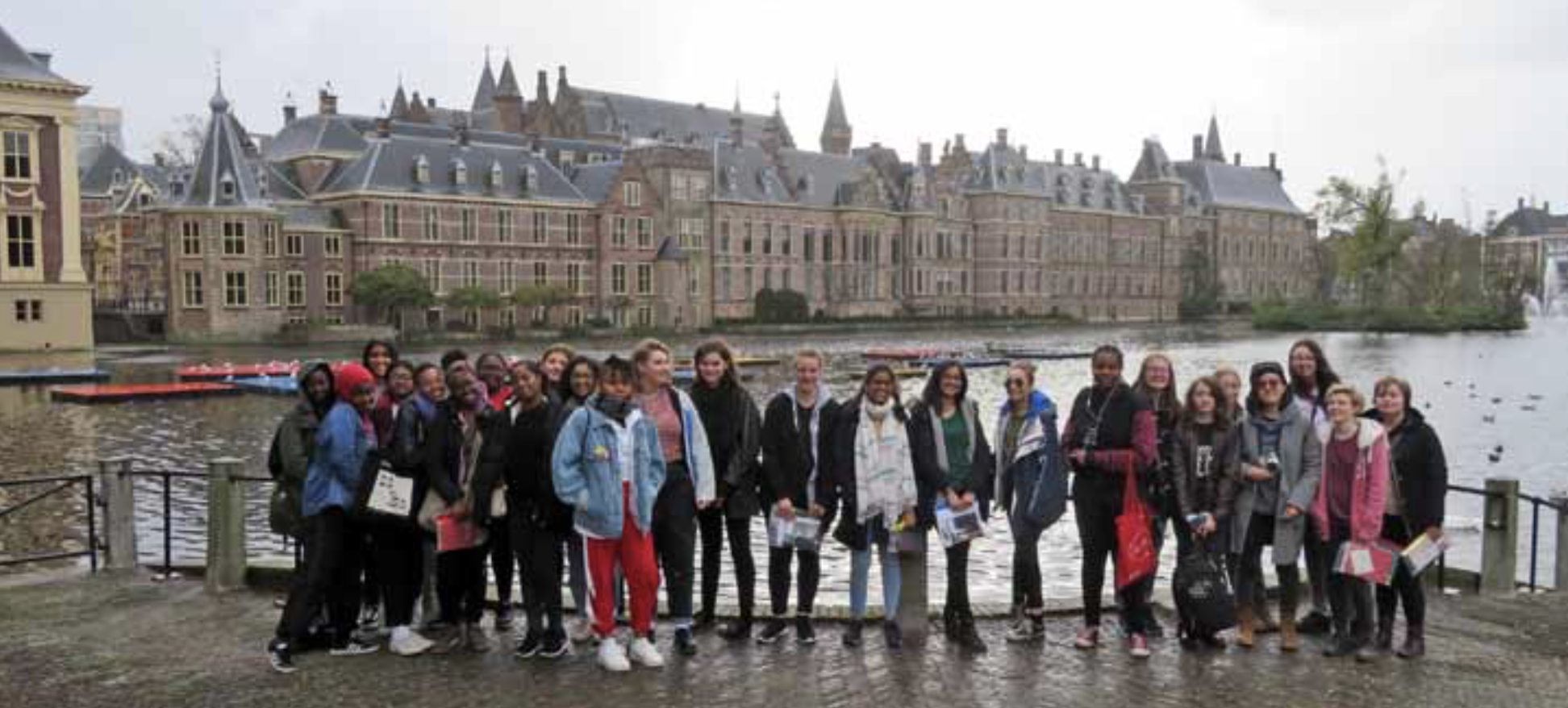 On the 22nd of October, the Art and Photography trip to Amsterdam arrived at Gatwick for an early start (5:45 am!) and soon enough we were all in the air, headed to Amsterdam. There were twenty-six students and three teachers, and having taken advantage of the flight to catch a short power nap, we all traipsed out of the plane and into a different country. First impressions were that the airports were so much more efficient than ours, and the second that upon stepping outside, was it was freezing, but definitely beautiful.

Those among us with those kinds of interests thought that the architecture of the newer buildings was incredible - huge glass structures that twisted prettily up to the sky. On the coach ride out from the airport I stared out of the window, desperate to be the first one to spot some iconic windmills with their gorgeous thatched roofing.
Amsterdam is a very green place; farms stretch out for a long while after the airport, streaked with waterways and dotted with vast greenhouses... and of course the windmills! We first stopped just outside a museum dedicated to the works of the artist Escher, but didn't go inside immediately. Instead we wandered around a pretty little fabric market, and marvelled at the complete lack of pigeons.
Inside the museum, called the Escher in Het Paleis, we quickly split off into groups to explore. The first place my group visited was the linocut area, where we all carved a picture into linoleum, and then one of the staff showed us how to print it off, using traditional Dutch methods. The rest of the museum was just as interesting; one room was carefully designed so that at one end you looked giant, and at the other end you looked tiny! There were interactive exhibits where you had to reconstruct an Escher-themed set of mathematical designs: there was a room that was painted in a way that made it seem as if you were in a cage, and there were other, massive chandeliers in the shapes of skulls, or immense glass trophies.
Next we went to BODY WORLDS: The Happiness Project! where you start at the top floor and work your way down, right through a tour of the human body. Real human corpses had been donated, and they were posed everywhere in exaggerated and flamboyant positions. The Biology students in particular were fascinated by the exhibits, and those of us doing Art certainly took some ideas for their own work. There were lots of interactive exhibits here as well; one was a sphygmomanometer, which reads your blood pressure, and another was a face reading program which identified the emotions you were feeling (mine was happy!). There was also a machine which displayed a virtual image of your body, including the skeleton, and then going deeper to the organs. It even matched to your body movements, and was so interesting that there ended up being a queue for it. My personal favourite was the swings!
After leaving, we walked through the streets of Amsterdam, being very careful when crossing the roads, as Amsterdam is a city that belongs to cyclists; they zoom around everywhere, and are far more numerous than cars.
The next morning we went to the FOAM Museum (Photography), where we looked at the photographs. The subjects of these ranged from faces to bodies, and from surveillance to surroundings, which meant lots of opportunities for inspiration for both Art and Photography students. We then went to the Gassan Diamond House and learnt about the cutting and polishing process. We all cast a few longing glances at the cases full of gorgeous gems, but they were a little out of our price range so we soon moved on. Still fascinating, though! We also visited Rembrandt's house, and learnt that the contents had been reassembled by curators using an inventory. We learnt traditional paint mixing methods, as well as the woodcut techniques, and finished up the day with an hour long canal cruise through Amsterdam. Did you know that there are 165 different canals in Amsterdam?
On our last day, the first stop was at the Rijks Museum, which was full to the brim of traditional Dutch art, and artefacts from Dutch History.
It included paintings from famous Dutch Artists, such as Rembrandt, as well as more modern works of art and design. The whole museum was a comprehensive look through Dutch culture and how it developed. After leaving the museum we posed outside an IAMSTERDAM sign, and then went to visit the Stedelijk Museum, which housed modern and contemporary art. My favourite was an interactive exhibit where we were all given permanent markers and allowed to write on the walls of a room. The tall people were at a distinct advantage here as the walls were already covered in the words of other people's messages! Then, it was time for lunch. The Netherlands is famous for its pancakes and waffles and for lunch the teachers took us to a place called the Pancake Bakery.
Finally, our last stop on the trip was at the Van Gogh Museum. This was my favourite out of all of the ones we had visited, as Van Gogh is one of my favourite artists. It was absolutely fascinating to visit the museum. It was entirely dedicated to him, and we saw several of his more famous paintings, as well as insight into his life. Each painting was punctuated with bits of context about Van Gogh's life and his mental state at the time. An interesting section was where different artists redid famous works by him, but in their own style.
There were also two gift shops, and those of us who had any euros left managed to spend them all on gorgeous little Van Gogh inspired trinkets. Near the entrance of the museum was a painted copy of Van Gogh's famous sunflowers painting. This allowed visitors to touch a Van Gogh painting, and imagine what it might have felt like. There was also a tactile version of the painting you could touch, and an auditory version of the painting where someone had imagined what the painting would 'sound' like. In a little yellow box, there was an olfactory version of the painting, where you could smell what someone thought the painting would smell. It didn't smell at all like sunflowers, but rather like the concept of the actual painting- warm and summery and sweet, a bit like honey really!
All in all the Art and Photography trip to Amsterdam was a great success, and everyone had a lot of fun walking around the streets, and over the many canal bridges, visiting beautiful museums, and seeing famous works of art. Amsterdam is a truly cultural city and I know we all definitely enjoyed ourselves – even if it did rain most of the time.
Asia, Year 13
Click here to see some more Images from this fascinating trip