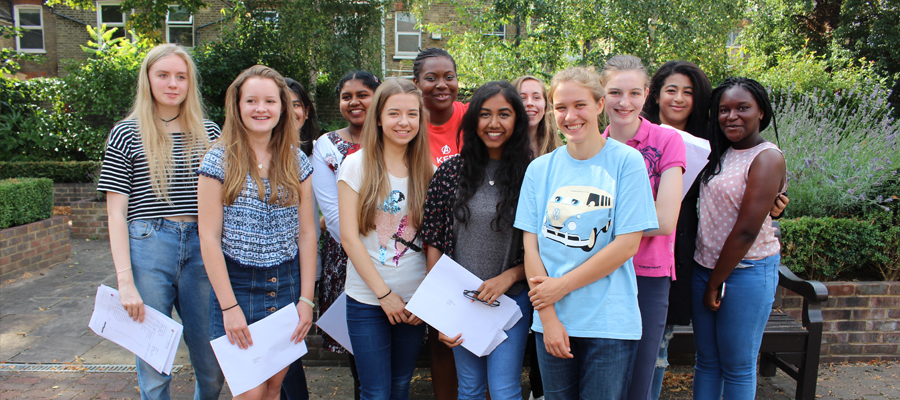 Seniors Examination Results
Old Palace School, in common with many other leading Independent Schools, chooses not to appear in School "league tables". However, there are occasions when a selection of examination results are extracted from Government statistics and published in the press. This rarely reflects the all-round academic achievement of our students.

Old Palace Celebrates 4% Increase In Top GCSE Grades for 2016
Old Palace is celebrating a very pleasing 4% increase in A* - A grades at GCSE this year. It is a particularly impressive result following news that GCSE results nationally have fallen dramatically across the board with the proportion who gained a C grade or above dropping by an unprecedented 2.1 percentage points compared to last year. There have also been some fantastic individual results with one student achieving a perfect set of 11 A* grades.
In total the results were:
57% A* - A
85% A* - B
97% A* - C
Particular congratulations go to Anisah, who achieved a perfect set of 11 A* grades: Ashleigh who achieved 10 A* grades and 1 A and Fiona who achieved 10 A* grades.
Other successes included Rebecca and Ireayo, who achieved 11 A*/A grades and Zoyah, Freya, Stefania, Maya, Catherine, Ayooluwabami, Nikita, Elizabeth and Lauren who all achieved 10 A*/A grades.
Head, Carol Jewell, says: "I am so delighted to congratulate the girls on a most impressive set of GCSE results. I am particularly proud to observe the rising number of A* and A grades - well done! My thanks to staff once more for their dedication and commitment. I know the girls are immensely grateful to you all."
Click here to see the Old Palace AS/A Level Results for 2016