Year 7: A time of opportunity and confidence building
New students will find the Old Palace community welcoming, supportive and full of exciting opportunities. Moving to a new school can sometimes be an unsettling experience, so we have established trusted strategies, such as not giving homework until after the autumn half term, to ensure a smooth transition.   Students soon relish the numerous academic and extra curricular opportunities available and their confidence grows, aided by a strong framework of pastoral support.
Making friends is easy. Everybody is really friendly and the class sizes are quite small, so you will have a chance to make friends with everyone in your form.
We are committed to ensuring that all our students are stretched and challenged in their learning. Girls are encouraged to participate in many of the exciting clubs and activities on offer and they take part in competitions which challenge their thinking and creativity. Students with academic or music scholarships and those who demonstrate exceptional academic ability are invited to join the prestigious Palace Group, where they will continue to be stretched and challenged.
Read about the Palace Group here
In Year 7 students follow a broad curriculum of 17 different subjects including: Art & Design, Computer Science (includes Codes & Cryptography), Dance, Design Technology, Drama, English, French (Beginners & Continuation), Geography, History, Latin, Mathematics, Music (includes singing), PE & Swimming, RS & Philosophy, Science (Biology, Chemistry and Physics), Spanish (Beginners).  Setting in Mathematics occurs following assessments during the autumn term.  Students are grouped in French and Spanish according to experience and ability. Movement across sets occurs throughout the school as appropriate. Alongside, the Learning for Life programme, which is part of the Year 7 curriculum, underpins the human, social, spiritual, cultural, careers and academic aspects of the students' work.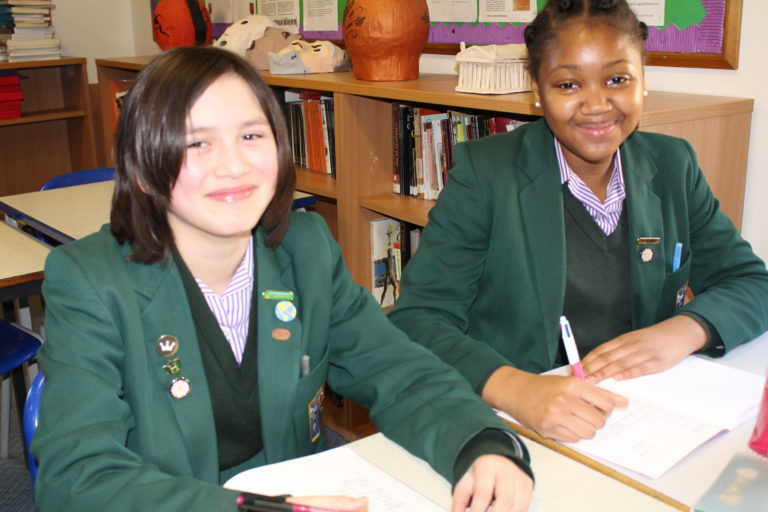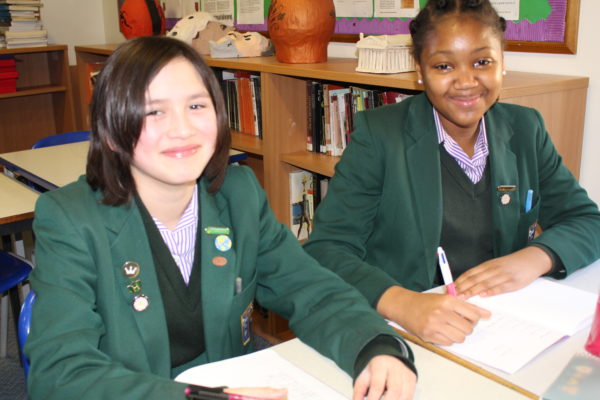 Year 8: A year of consolidation and growth
In Year 8, the curriculum is the same as Year 7 but with the introduction of a second Modern Foreign Language: German, Italian or Spanish. 
Year 9: Consider Your Options!
This is an important year for students; they are growing into young women and will be required to make some important choices regarding their GCSE subjects. 
During the autumn term, students will start thinking about their GCSE choices. They will be supported by their Form and Subject Tutors, together with our very experienced Head of Careers. Families will be invited to an Options Information Evening, which includes a presentation to parents to explain the Options process. Unlike many state schools, we are lucky to be able to build our timetable around the choices that our students make.
GCSE Options
Students take up to 10 subjects, which is more than sufficient for any future career or course of training. It also allows students time to further develop interests and experience through clubs, activities and service. This is important for entry to top universities, as well as ensuring a healthy work-life balance. It is possible to take an eleventh subject if you wish to take Classical Greek. 
It is important to develop a balanced programme of study containing subjects from a range of disciplines. This allows students to develop a variety of skills and interests and demonstrate they have a broad range of skills to offer. In addition, it will ensure that after GCSEs, students will have retained the possibility of studying the Arts, Sciences, Languages, the Humanities and creative and technical subjects at A Level. All students will studying the following subjects:
English and English Language
Mathematics
Science (either three separate sciences or Co-ordinated Science)
One Modern Foreign Language i.e. German, French, Spanish or Italian
In exceptional circumstances, such as pupils joining the school later or where English is an additional language, a student may be advised to study English but not English Literature. PE continues and students will be offered the chance to study for the Sports or Dance Leadership awards.
Years 10 & 11: The GCSE Years
As students begin their GCSE studies, the pace and depth of learning increases.
The curriculum allows for students to follow up to 10 GCSEs. The core subjects are English Language, English Literature. Maths and Science (either three separate sciences or double science).
GCSE courses are offered in Art, Business Studies, Classical Civilisation, Computing, DT, Dance, Drama, French, Geography, German, History, Italian, Latin, PE, Spanish and Religious Studies.  Classical Greek runs as a twilight course for our most able scientists and classicists.
Students are encouraged to maintain a breadth of study and are advised to study at least one subject from each of humanities, the creative and performing arts, modern foreign languages and technology subjects.
Music is integral to life at Old Palace and very much part of our curriculum. We aim to encourage as many girls as possible to join in with the many musical opportunities available to them. Our aim is to cultivate and develop young musicians of all standards, and encourage participation in a wide variety of ensembles. We provide a diverse curriculum that allows pupils to engage in a multitude of genres and styles, which, in turn, is supported by the excellent and extensive co-curricular framework.
Old Palace Senior School has two orchestras, four choirs, a brass ensemble, a jazz band, several steel pans groups, a recorder consort, a guitar ensemble, a ukulele ensemble and a number of wind and string chamber groups to choose from. 
A team of 20 peripatetic music staff undertake instrumental tuition for approximately 200 students. Girls may elect to learn the piano, flute, saxophone, percussion, trumpet, trombone, oboe, clarinet, violin, cello, double bass, viola, French horn, bassoon, harp or guitar. Associated Board Examinations are also conducted regularly at school.
As a member of The Choir Schools Association, our chapel choir sings monthly evensong services in Croydon Minster, and also sings regularly at cathedrals around the country. Our Chamber Choir has won a number of competitions and singers from the school have recently performed with the internationally renowned London Mozart Players on several occasions, including performances of Holst's 'Planets', and Mendelssohn's 'A Midsummer Night's Dream'. We also regularly put on school musicals and collaborate with the other foundation schools in doing so. Recent productions have included 'Seussical', 'Hairspray', and 'Guys and Dolls'. There have also been several Opera productions involving Old Palace pupils, including recent performances at ENO and Garsington's production of Britten's Turn of the Screw.
In addition to our regular concerts and productions, the school's musicians regularly perform abroad; recent tours have included performances in Vienna, Barcelona, Venice and Tuscany amongst others.
Dance & Sports Leadership: Dance Leadership and Sports Leadership are also options for students in Year 10 and 11.  In addition, Year 10 students may embark upon the Bronze Duke of Edinburgh Award scheme with the option to progress to the Silver award in Year 11 students and Gold in the Sixth Form.