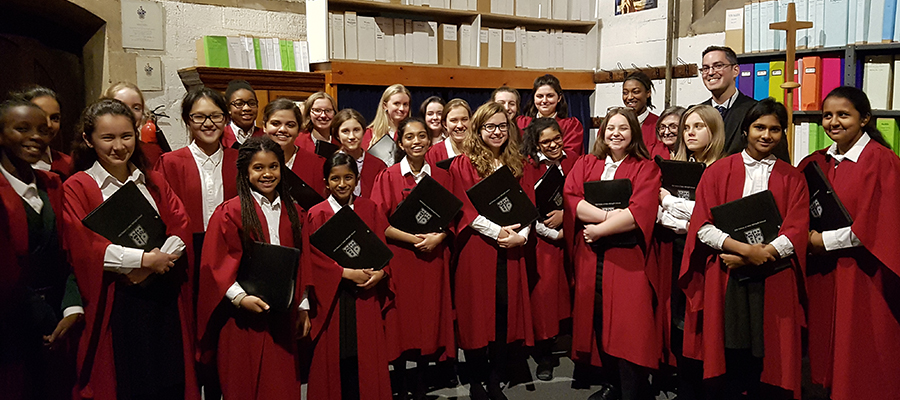 Music
The Music Department at Old Palace aims to develop and nurture the musical talents of all students and foster a love and enjoyment for music-making of all styles and genres. There are many and varied performances opportunities throughout the year, and all students are encouraged to involve themselves. Academically our performance in music is strong; we were awarded the prestigious ISM/ISM Trust Gold Certificate for our performance at GCSE Music last summer (2016) - something which is only given to the top 76 schools in the UK.
At School: Polyphonic sings Evensong monthly in Croydon Minster and regularly in English cathedrals. Recent cathedral visits have included Salisbury, Chichester, Winchester, Gloucester, Southwark Cathedral, St George's Chapel, Windsor Castle and St Paul's Cathedral.
Abroad: Recent trips include Barcelona, to sing in Montserrat Abbey, Florence, Venice (where we sang Mass in St Mark's Basilica), Amsterdam and the Rhineland (where we performed in Cologne Cathedral): Paris (with performances at La Madeleine and Disney Land) and Florence in 2015. The choir toured Malta in July 2016.
Performance Opportunities: A weekly lunchtime recital series in the Chapel provides an informal opportunity for all musicians to perform as soloists or in small ensembles. There are whole school concerts every term, and venues have included the school's Banqueting Hall, Croydon Minster and the Fairfield Halls.
Workshops and educational projects: These allow our students to extend and develop their musicianship with professional musicians. Recent collaborations have included: the Phoenix Saxophone Quartet, Maggini String Quartet, Maroon Town (Reggae group), The Junk Orchestra, London Breakbeat Orchestra, violinist Tasmin Little, The Orion Orchestra and The Sixteen. We currently run a quartet-in-residency scheme with the Maggini Quartet who visit the school regularly to coach students, perform to year groups and work with our composition students creating new music. Collaborations with the Maggini Quartet, GCSE musicians and Dance students resulted in an evening of new contemporary dance and music all created by our students.
Recent musical highlights: These include performances of Little Shop of Horrors and The Sound of Music with the Drama Department, Mozart's Flute Concerto in D, Cimarosa's Double Flute Concerto, Mendelssohn's Hebrides Overture, Mozart's Coronation Mass, Fauré's Requiem and Karl Jenkins' Adiemus with the school orchestra and Sixth Form soloists. There have also been successes in the Chamber Music and Choral sections of the Croydon Music Festival and the Sutton Music Festival. The school performs regularly with the two partner Foundation boys' schools (Whitgift and Trinity). Singers from the school recently collaborated in a performance of Messiaen's Trois Petites Liturgies de la Presence Divine with members of the London Mozart Players; with the Maggini Quartet in a performance of Eric Whitacre's Five Hebrew Love Songs; with the BBC Symphony Orchestra and Singers in a performance of Dvorak's opera The Jacobin. The Chamber Choir has built up a food working relationship with Garsington Opera, Glyndbourne Touring Opera, English National Opera and the Royal Opera House with students appearing on stage as soloists and as the Children's Chorus. (Most recently in Janacek's Cunning Little Vixen with Garsington Opera, Verdi's Otello and Tchaikovsky's Queen of Spades with ENO and Puccini's Il Trittico with ROH. We are recently worked with ROH on Enescu's Oedipe).
Click here to view the Spring 2019 Concert
Click here to view the latest issue of our Music Magazine Rondo
Click here to view issue 6 of our Music magazine Rondo
Click here to view Issue 4 of our Music magazine Rondo