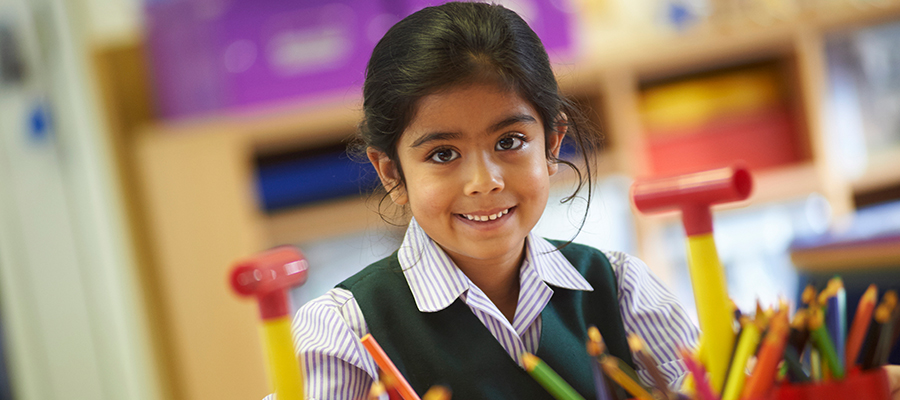 Curriculum
Reception
Staff working within this stage plan for and provide activities and opportunities that will allow children to reach their potential in each of the three core areas: Personal, Social and Emotional Development, Physical Development, Communication and Language.
Similar provision is made to maximise progress in each of the four specific areas of Literacy, Mathematics, Understanding the World, Expressive Arts and Design. Specialist teachers introduce students to Modern Foreign Languages in the Reception Year through the 'MFL Experience' course and to swimming.
Year 1-2
Old Palace uses the National Curriculum content as a basis for programmes of study at Key Stage 1 and includes a range of practical and investigational activities.

Students study Mathematics, English, Science, Humanities, RS, Art, Music, DT, PE and Dance. The curriculum is enhanced by the inclusion of French, swimming and through the school wide Learning for Life programme. From Year 2 the students also study Logic and Reasoning. The curriculum is flexible in order to create conditions which motivate all girls to make sustained progress and which promote creativity, whilst working within a common framework.
Year 3-5
As with Key Stage 1 we use the National Curriculum as a basis for our programmes of study in Mathematics, English, Science, History, Geography, RS, Computing, Music, DT, Drama, PE, Dance, French, 'Learning for Life' and Art.

Students continue the course on Logic and Reasoning to support applications to selective schools. Continued flexibility within the curriculum creates conditions which promote progress, creativity and increasing independence.
Year 6
In Year 6 the students move into the Senior section of the school and the curriculum is overseen by Senior school Subject Leaders.

The students study Mathematics, English, Science, Computing, Latin, French, Music, PE, Swimming, Logic and Reasoning, Creative Design (an amalgamation of D&T and Art & Design), Expressive Movement (an amalgamation of Dance and Drama) and Expanding Horizons (a course based upon the RSA 'Opening Minds' skills set and National Curriculum History, RS and Geography).

Students also follow the 'Learning for Life' programme. During Expressive Movement students enter for the Arts Award Explore.