Year 6 – A Time to Expand Horizons
At Old Palace, we admit students into our Senior School from age 10/Year 6. 
Although the majority of girls join us in Year 7, our Year 6 consists of both current students from Old Palace Preparatory School and a number of new students who are looking to experience a more challenging and stimulating curriculum.
Our Year 6 students are fortunate enough to enjoy their own, dedicated area of the Senior School with separate Year 6 classrooms and their own leafy courtyard in which to play at break time.  Yet they share all the facilities of the Senior School, including the specialised teachers and teaching spaces, the on-site sports and music facilities and the very popular swimming pool, where all pupils have weekly swimming lessons.
Whilst we maintain a close-knit community within Year 6 by teaching students in their own classrooms, we challenge and stimulate them by using specialised areas such as the Science, Art, DT, Sport and Music facilities. For girls who are eager to learn, this provides an exceptional opportunity to take lessons from subject specialists at an early age. In fact, we often find that this inspires a passion for different subjects which continues throughout their Senior School years. Other new subjects, such as Latin, Physics and languages are also studied.
Throughout Year 6, students are prepared for the 11+ examinations and, of course, our own, Old Palace entrance examination. They also enjoy a wide variety of lunchtime and after-school clubs as well as the opportunity to take part in Senior School productions, concerts and choirs (including concerts at Croydon Minster). Girls are introduced to water polo, tennis, dance, hockey and netball and are given the opportunity to try out for teams and play competitively.
Taking part in the Arts Award is a very popular activity with our Year 6 students, who relish the challenge of creating their own plays and presenting them to their parents at the end of the year. Another highlight, and one which is very much looked forward to, is the annual residential trip to the Isle of Wight.
Expanding the horizons of our students in this way ensures that Year 6 at Old Palace becomes a valuable and rewarding experience. Most importantly, it helps build confidence which plays a significant part in reducing any anxiety a girl may experience when transferring from Year 6 to Year 7.  Indeed feedback on our year 6 provision from both students and parents is overwhelmingly positive and we are immensely proud of all that our Year 6 girls achieve.
Year 7 – A time of opportunity and confidence building
Students new to Year 7 will find the Old Palace community welcoming, supportive and full of exciting opportunities. Moving to a new school can sometimes be an unsettling experience, so we have established  trusted strategies to ensure a smooth transition. Students soon relish the numerous academic and extra curricular opportunities available and their confidence grows, aided by a strong framework of pastoral support.
We are committed to ensuring that all our students are stretched and challenged in their learning. Girls are encouraged to participate in many of the exciting clubs and activities on offer and they take part in competitions which challenge their thinking and creativity. Students with academic or music scholarships and those who demonstrate exceptional academic ability are invited to join the prestigious Palace Group, where they will continue to be stretched and challenged.
In Year 7 students follow courses in Art, Design  & Technology (including Food & Nutrition), Drama, English, French or Spanish, Geography, History, Computing, Latin, Mathematics, Music, PE & Swimming, Religious Studies, and  Science. Setting in Mathematics occurs following assessments during the autumn term.  Students are grouped in French and Spanish according to experience and ability. Movement across sets occurs throughout the school as appropriate. Alongside, the Learning for Life programme, which is part of the Year 7 curriculum, underpins the human, social, spiritual, cultural, careers and academic aspects of the
students' work.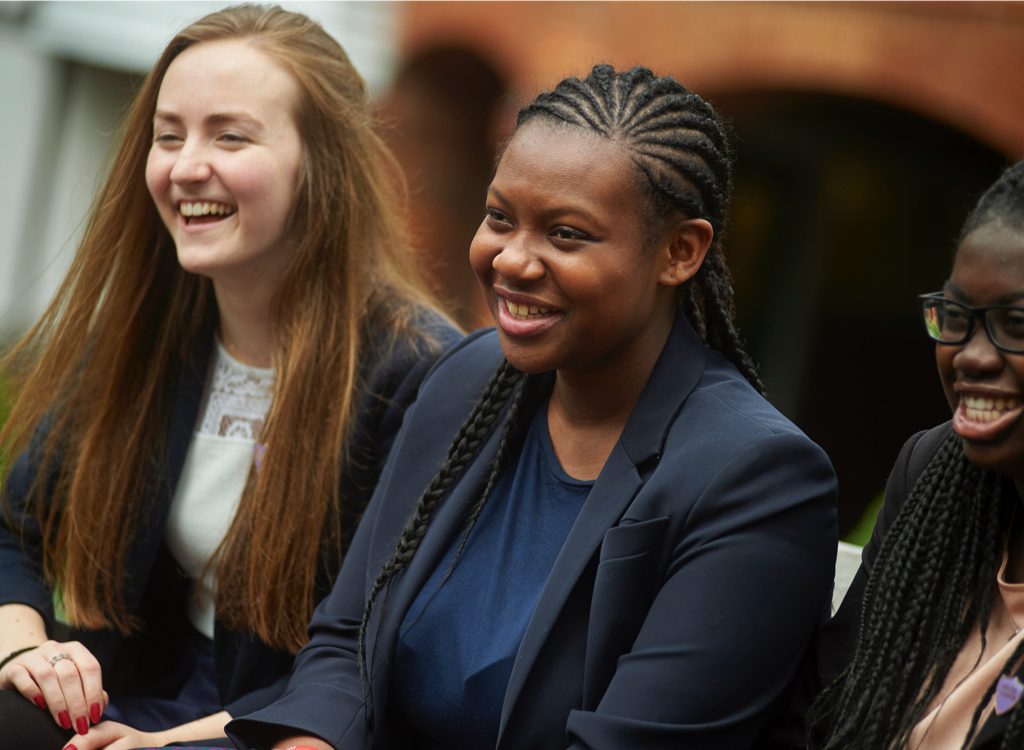 Years 8–9 – A time of personal and academic growth
In Year 8 & 9, the curriculum introduced in Year 7 is enriched by the introduction of a second modern foreign language: German, Italian or Spanish.
Years 10-11 – A continuation of the personal and academic growth embedded in the lower years
As students begin their GCSE studies, the pace and depth of learning increases.
The curriculum allows for students to follow up to 10 GCSEs. The core subjects are English Language, English Literature. Maths and Science (either three separate sciences or double science).
GCSE courses are offered in Art, Business Studies, Classical Civilisation, Computing, DT, Drama, French, Geography, German, History, Italian, Latin, PE, Spanish and Religious Studies.  Classical Greek runs as a twilight course for our most able scientists and classicists.
Students are encouraged to maintain a breadth of study and are advised to study at least one subject from each of humanities, the creative and performing arts, modern foreign languages and technology subjects.
Sports Leadership and the Arts Award in Dance are also options for students in Year 10 and 11.  In addition, Year 10 students may embark upon the Bronze Duke of Edinburgh Award scheme with the option to progress to the Silver award in Year 11 students and Gold in the Sixth Form.