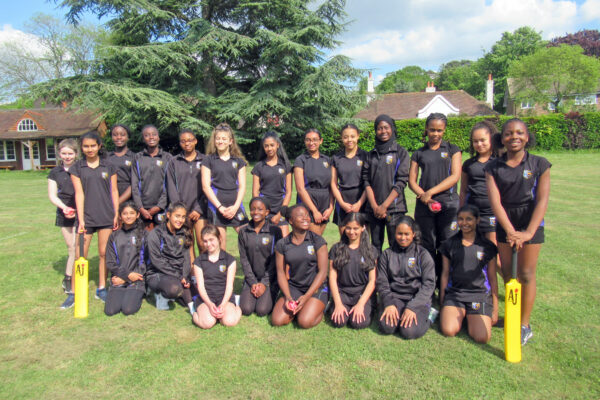 We are absolutely thrilled to learn that Old Palace has been included in The Cricketer Magazine's Top 20 All-Girls Schools for Cricket. We are very proud of both our Old Palace PE department, under Director of Sport, Mrs Smith, and our students, for this well-deserved accolade.
Mrs Smith says: "Inclusion in The Cricketer Magazine's Top 20 All-Girls section highlights Old Palace's achievements so far, together with our plans for the future as we look forward to taking cricket to the next level. We are very proud to have been recognised for our efforts in developing sporting opportunities for our students."
Women's cricket is a fast growing and developing sport in the UK. The Old Palace PE Department has worked hard to develop cricket within the school; both in the curriculum and the extra-curricular programme.
This is the first time that The Cricketer has featured a Top 20 All-Girls Schools category in their prestigious Schools Guide, alongside their usual Top 100 Senior Schools and Top 50 Prep Schools.
It follows an exhaustive process which saw a record number of schools submit entries to be included in the Guide, despite the ongoing pandemic. All entries were judged against an extensive set of criteria, which included a compelling commitment to cricket in the curriculum, facilities, fixture programmes and coaching.
The Cricketer gathered entries and compiled the leading lists, working alongside former England star Lydia Greenway to select the inaugural top 20 all-girls schools.
The Cricketer magazine editor, Simon Hughes, said: "This year's Schools Guide is particularly important in showcasing schools who have kept the game alive through a very challenging summer. Whether it has been remote video sessions, drills in the garden or even Zoom quizzes, school's cricket has emerged resolutely from this pandemic and the appetite to get back out on the playing fields is palpable.
There should be deserved praise for all the teachers, coaches and volunteers who have put in so much hard work, in the most difficult of circumstances, to preserve a love of the game among the next generation."
https://www.ecb.co.uk/england/women/news/1923070/forty-one-female-players-sign-full-time-domestic-contracts