The Old Palace Association is over 100 years old. It was formed to allow past pupils to re-connect with one another, enjoy regular events and remember their time at Old Palace.
The Association is run by an enthusiastic group of dedicated committee members, who also produce a regular newsletter featuring articles by alumnae, along with news and details of forthcoming events. We host an annual event for Year 7 pupils, who like all current pupils, become associate alumnae when they join us at the Senior School.
OPA Spring/Summer 2021 Newsletter
Membership to the OPA is free to all alumnae. To join our mailing list, please email your name, address and the years you were at Old Palace to Nicola Berry at:nberry@oldpalace.sch.croydon.uk.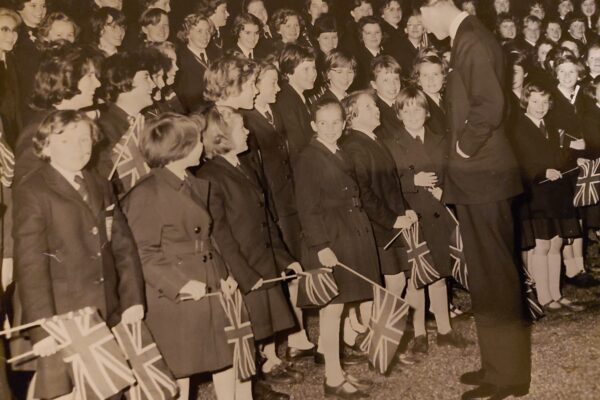 HRH Prince Phillip visiting Old Palace in 1960. With thanks to Janet Dean.
Summer Reunion 2021: UPDATE
There will be no formal Summer Reunion this year; instead we are holding a coffee morning from 11.0am-1.00pm at the Senior School on Friday, 9th July. Covid restrictions mean that we must hold it outside and are limited to 30 people. If you would like to reserve a place, please email Nicola Berry: nberry@oldpalace.croydon.sch.uk
There is no charge for this event.
One of our most popular events is the annual OPA & Friends Carol Service. View the virtual service here:
OPA Newsletter: Read the Autumn/Winter 2020 issue here:
OPA Newsletter: Read the Spring/Summer 2020 issue here: 
If you would like to contribute to the newsletter (including obituaries), please email Katy Beck, the editor at: opa.newsletter@outlook.com.
Reunion Dinner: February 2002.
We were delighted to welcome the distinguished author, Alison Weir, to our Reunion Dinner for the classes of 81-86 in February.